---
Florida Wildlife Corridor Workshop - Postponed
Check the calendar of events below for up-to-date information on meetings, conventions, concerts, exhibitions and more. With events scheduled nearly 300 days each year, there always is something happening at the Ocean Center. If you are planning to attend a ticketed event in the arena, click here to see the seating chart for seat locations.
Event Date(s)
Begins: August 13, 2022 8:30 am
Ends: August 13, 2022 12:30 pm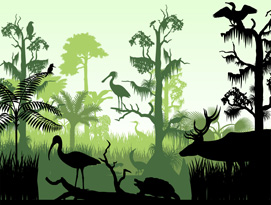 The Volusia Forever Convening on the Florida Wildlife Corridor is postponed.
The half-day workshop is designed to bring together non-governmental organizations, members of the public, agencies, policy makers and local stakeholders to share information on the value of the corridor to people, wildlife and the economy.
The Florida Wildlife Corridor is a statewide network of public conservation lands and private agricultural lands that provide a conservation area of nearly 18 million acres, of which 10 million has been permanently protected. Volusia County has 434,132 acres in the wildlife corridor, of which 55% has been permanently protected through the Volusia Forever program and other partners.
Through presentations and moderated panel discussions, participants will learn about the corridor and its connection to the county's efforts, which include Volusia Forever; understand the economic benefits of protecting a connected network of conservation lands; and hear a robust exchange of land conservation strategies and models that could be applied in Volusia County.
The workshop will help the county build relationships with individuals and agencies that address the challenges of protecting the waters that sustain us, the working farms and ranches that feed us, the forests that clean our air, the coastal zones that protect us from storms, and the habitat all these lands provide for Florida's diverse wildlife.
Registration is required for the free event. For more information, including a detailed agenda and registration link, visit www.volusia.org/wildlifecorridor.
Can't attend? The workshop will be livestreamed on the County of Volusia YouTube site, https://bit.ly/vcyoutubesubscribe.
Two or more members of the Volusia County Council and Volusia Forever Advisory Committee are expected to attend.

Notice under the Americans with Disabilities Act (Title II)
Pursuant to Title II of the ADA, Volusia County does not discriminate against qualified individuals with disabilities in providing or conducting its services, programs or activities. Anyone requiring an auxiliary aid or service for effective communication, or a modification of county policies to participate in a meeting or other event, should contact the county's ADA Title II coordinator, Jim Corbett, at 386-248-1760 no later than two business days before the event or meeting.