Planners
Successful events begin with a great destination.

Virtual Tour
Get a 360 degree tour of the facility.

Upcoming Events
Business hours: 8 a.m. to 5 p.m. Monday through Friday
Contact information:
Ocean Center
101 N. Atlantic Ave.
Daytona Beach, FL 32118
Phone: 386-254-4500
800-858-6444
Fax: 386-254-4512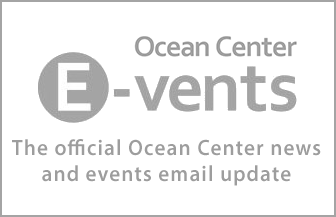 Go beyond expectations at the Ocean Center—Daytona Beach
The Volusia County Ocean Center, located only 400 feet from the world-renowned Daytona Beach and surrounded by outdoor adventures and incredible attractions and accommodations, is a modern, state-of-the-art facility that offers planners, exhibitors, and attendees the unique opportunity to host and attend events of all sizes. Unlike competing convention centers, the Ocean Center makes even the smallest meetings or events feel like the center of attention. We pride ourselves at providing a high level of personalized service other convention centers can't offer.
Who books the Ocean Center?
Everyone! From an arena capable of holding more than nine thousand attendees to a 93,028-square-foot exhibit hall, as well as multiple meeting rooms and ballrooms, find the space to host events of all shapes, sizes, and needs, including conventions, conferences, sports and esports competitions, competitive arts, and much more. No matter what you're planning, the Ocean Center's state-of-the-art technology, ample and unique event spaces, and attentive staff will ensure your event is the most important thing happening in Volusia County.
Ocean Center honored with Readers' Choice award
For the tenth time, the Ocean Center has received the Readers' Choice award by Convention South magazine. Meeting professionals were asked to name the meeting sites they believe display exemplary service for group events. Nominations were received throughout the year, and the top picks were selected via online voting by more than 8,000 voters. Of the thousands of meeting destinations in the South, just 380 destinations and venues across the South were selected as winners. The Ocean Center is once again thrilled to be part of this distinguished group!