---
ECHO GALLERY
Call for submissions- July 2022
The County of Volusia ECHO Gallery Committee is seeking proposals for a new exhibition in the Ocean Center's ECHO Gallery. Artists are encouraged to submit their two-dimensional, Volusia County history-themed pieces by 5 p.m. Friday, Feb. 10, 2023. Review the full submission details.
Naturally Volusia Too- July 2022
Five painters employ divergent approaches and themes toward prompting appreciation for the complexity of Volusia County's natural offerings.
Contact the Ocean Center at 800-858-6444 to schedule your gallery visit.
About the Artists and their work
Doreen Hardie
Doreen Hardie's landscapes are done in an impressionistic style that reflects her deep faith in the Lord Jesus Christ and the beauty He created in the world around her. She was a student of the late Greek painter Antonis Karafyllakis. Doreen says "Before I begin painting, I ask the Lord to bless my canvas, my brushes, and my eyes, so I can see and interpret the vision clearly. I don't feel I am finished with a painting until it begins to sing to me." Doreen works primarily in oils.
Doreen has shown her works in several galleries and art shows in Washington, DC, New York, Philadelphia, Delaware and Florida and has won ribbons in juried shows. Her paintings are in private collections around the United States, Jamaica, Japan, Australia and Europe.
For more about this artist, visit www.doreenhardie.com.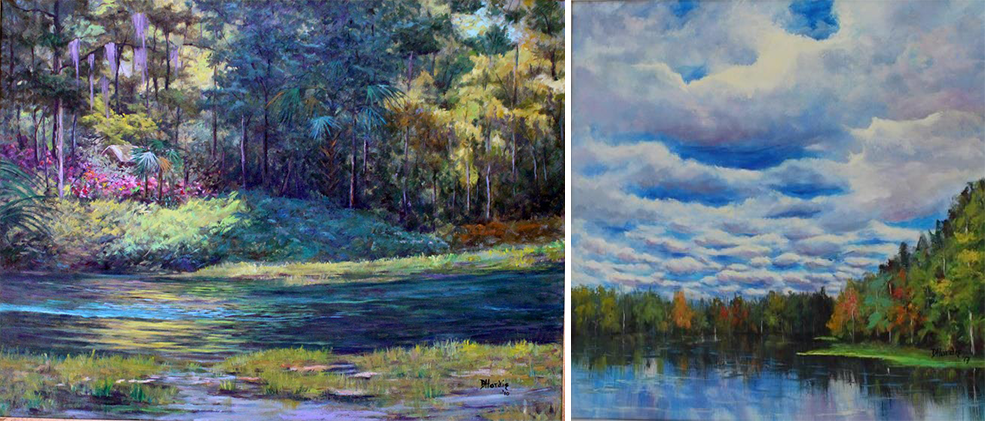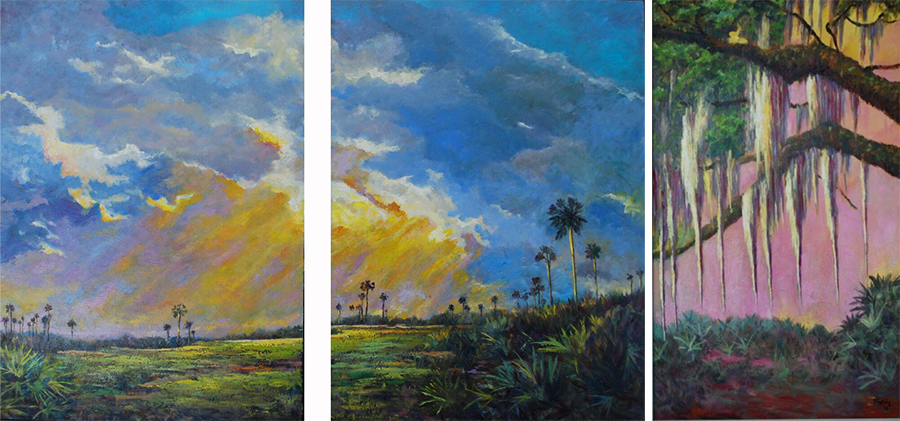 From left to right:
First row

Rainbow Springs, 30" x 40" oil on canvas
St. Johns River, 20" x 24" oil on canvas

Second row

Serene Sunset, 40" x 60" diptych oil on canvas
Spanish Moss, 25" x 37" oil on canvas
Clare Radigan
Clare Radigan creates medium to large paintings in acrylic on canvas and wood panels, as well as collage and mixed media.
Throughout her career her work has often addressed the human impact on the environment.
Radigan grew up in the Virginia suburbs of Washington, D.C. and attended Virginia Commonwealth University, receiving a Bachelor of Fine Arts degree in Painting and Printmaking. She then lived for many years in California. She attended San Francisco State University, earning a Master of Fine Arts degree in Painting.
She moved to Florida in the 1990s and taught art for ten years at what was then Daytona Beach Community College, and Volusia County Schools for twenty-two years. During the past eight years she has had five solo exhibitions and has been in numerous group exhibitions.
The four paintings Clare Radigan has displayed in this exhibit are from a series of twelve artworks referencing locations in West Volusia County. They are a manifestation of what she sees in her mind's eye, combined with compositional concerns such as placement, color intensities, and the light that exists in the painting.
Having lived in cooler climates most of her life, Radigan's paintings are an intensified view of the humid, wild nature in Florida, even though she considers them to be compositions, not traditional landscapes. For example, the painting Horsemint began as an idea about a particular place, but as it progressed, shapes, textures and translucent layers of color were added to create areas of interest in the composition. The artist then invented vague geometric forms submerged in the water at the center of the painting to create a transition from the bottom of the painting to lead the viewer's gaze to the top of the painting. The only resting point in the painting is the milky green haze at the upper edge of the water before entering the contrasting area of palm fronds against the darkness. The end result is a view to a luminous mystery.
For more about this artist, visit www.clareradiganart.com.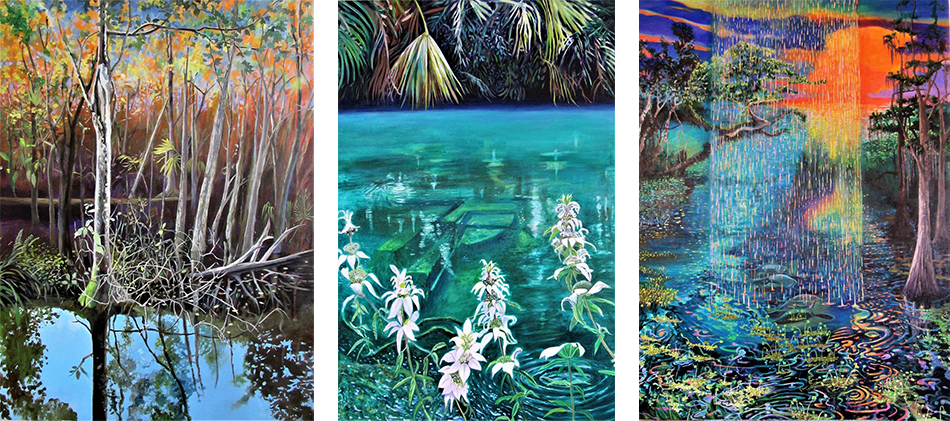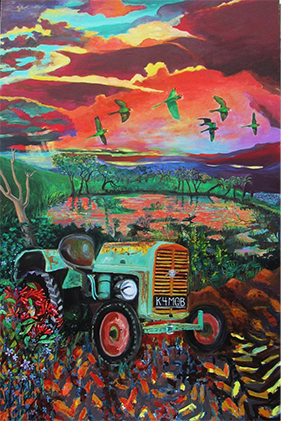 From left to right:
First row

Garfield Swamp, 48" x 36" acrylic on canvas
Green Springs Horsemint, 48" x 36" acrylic on canvas
On the River, 48" x 36" acrylic on canvas

Second row

Jenkins Pond, 60" x 40" acrylic on canvas
Johanna Riddle
Drawing on her background as an art educator from the preschool through the university levels, New Smyrna Beach artist Johanna Riddle combines painting, printmaking, mark-making, dyes, and chemical alterations to create mixed media collages and assemblages. She experiments freely with media combinations, layering and arranging hand crafted papers into small- and large-scale compositions. She has long been interested in the symbiosis of word and image and often works in a cycle where one informs the other. Excerpts from literature can often be found on the reverse of her pieces. Meditation and journaling are integral to her work.
Johanna's award-winning art has been exhibited in a number of juried venues, including Art Fields, The Museum of Arts and Sciences in Daytona Beach, The Orlando Museum of Art, The Grey Gallery at NYU, and The NAWA Gallery in New York City. Her work was selected for inclusion in the 2022 International Exhibition of Collage Artists, and will be featured in the 2022 edition of Art Folio: 100 of the World's Most Exciting New Contemporary Artists. Johanna's art is influenced by her research and writing on the topic of visual literacy. Her academic research has been referenced in a number of scholarly publications, recognized with a Fulbright Scholarship, a Smithsonian Learning Innovation Award, and is housed in the Smithsonian's Museum of U.S. History Age of Information archives. Johanna is represented by The Hub on Canal. She is active in the National Association of Women Artists, Collage Artists of America, Beaux Arts of Central Florida, Artists Workshop of New Smyrna Beach, The Art League of Daytona Beach, The Florida Women's Art Association, and serves as a Board Member of Beaux Arts of Central Florida.
Johanna Riddle describes her work as truly mixed media, involving many processes and including a number of types of water-soluble media. She begins by creating a collection of painted, printed, and chemically altered papers and sometimes incorporate found papers—a piece of music, the printed word, a page from an old ledger. These papers form the foundation of the design. She then creates each piece in layers, freely combining and adding paint, watercolor dyes, inks, watercolor pencils and other media to develop richness, depth and glow. Lately, pen and ink are incorporated as the final layer in the work. The evolution of each piece is a slow process requiring a certain brand of meditative Zen and cannot be hurried.
Though Riddle always has a dedicated point of departure—a dream, an experience, my environment, a line from a poem, a page from a book— the artist has learned that each work created inevitably begins to take on a life of its own. The process is a bit like beginning to write a story, then standing back in wonder as the story continues to write itself, inserting unanticipated twists and turns and details that offer additional layers of richness and complexity and meaning. "I love that part of the process—that feeling of working with the piece, and not simply on the piece," said Riddle. "Sometimes, I have to wait for the next part of the story to reveal itself. Sometimes, the road ahead is so clear and certain that I can't get it down on paper fast enough. "
Riddle believes that the magic of art lies in its ability to form a kinship between the viewer and the artist. In that spark of connection, two worlds and perspectives merge. The artist reaches across time and tells their story. The viewer makes fresh interpretations, discovers intricate details, layers their own culture, values, life experiences over the image. A richer story is born, a new voice heard. Each piece of art ultimately becomes a never-ending story.
For more about this artist, visit www.johannariddle.com.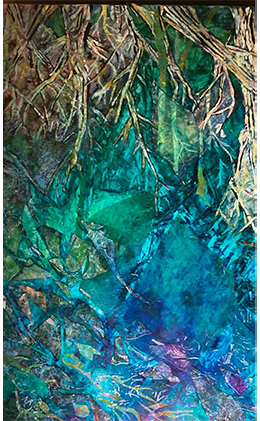 Deep Springs, 49" x 35" collage- acrylic, watercolor and ink
Trish Vevera
Trish Vevera has always been interested in painting the environment, mostly en plein air. While all paintings are not direct messages, most abstract reality to a certain degree. According to the artist, "I try to simplify what I see and provide a contemporary view of the environment."
Vevera earned a bachelor of arts from Grinnell College and a masters of arts in painting from the University of Iowa. She also earned an advanced certificate in second/continuing education from the University of Illinois in art education.
Vevera has shown in outdoor art shows in Illinois, Indiana, Virginia, and Florida but now shows in mostly indoor art events. She is presently showing at the Pineapple Gallery in Flagler Beach.
Vevera is a member of the Florida Women's Art Association, Artists Workshop New Smyrna Beach and Palm Coast Plein Air Painters. She continues to teach classes has served as a judge for art shows. Recently, Vevera has been painting with oil and cold wax medium.
"And then there were two…" is from Bulow Creek State Park along "The Loop" on Walter Boardman Lane and Highbridge Road. The three egrets are duplicates of each other, but all differ in some way. Egret one is a healthy happy bird; Egret two looks healthy, but has a broken wing; Egret three is disappearing into the landscape—perhaps a ghost or a warning that if we do not take care of his environment he will be gone forever. "It's a message painting to say the least," says Vevera.
For more about this artist, visit www.fineartamerica.com/profiles/trish-vevera.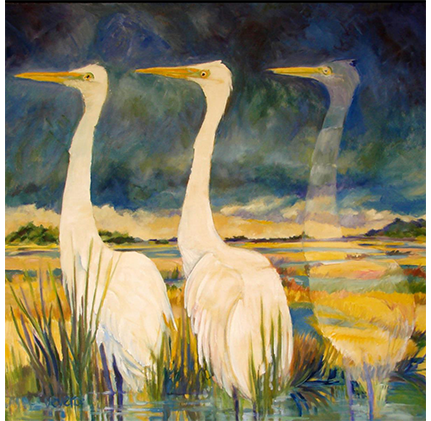 And Then There Were Two, 48" x 48" oil on canvas
Robert Wince
Robert Wince finds artistic inspiration in the world around him. Beautiful sunsets, waterfalls, mountains or mysterious swamps all have a place in his work. He pays homage to those scenes by trying to capture the essence of the place, the feeling of the experience and the importance of its preservation. While traveling the world, he records the landscapes and people with cameras or paint brush and canvas. These quick photos or sketches, can stand alone as a creative effort or may serve as a basis for a much more involved studio composition.
His style is natural realism with a touch of added storytelling. By bringing in additional artifacts, wildlife or dramatic lighting, he allows viewers to better appreciate the artwork and the world around them. Robert has been using acrylic paints for many years, but still likes to use oil paints. They both have their benefits. He has also enjoyed watercolor, pastel and even stone carving.
Robert Wince's early love of painting drew him into work that included technical drawing such as architectural, mapping and advertising illustrations. Photography played a big role in this type of work and led him to focus more on capturing images with a camera rather than pens, paper and brushes.
Soon, he was producing short films for TV commercials, industrial films, and environmental issues. When the opportunity presented itself, he began a long career in broadcast TV production. This proved to be an exciting and challenging field for a creative person with an artistic insight. But, when the time was right, Wince retired from the communications business.
Returning to his first calling, Robert took up painting as his main interest. Showing and selling his work in gallery exhibitions and outdoor art festivals, he has won many awards and has work in many public and private collections. Robert Wince lives in New Smyrna Beach.
For more about this artist, visit www.robertwince.com.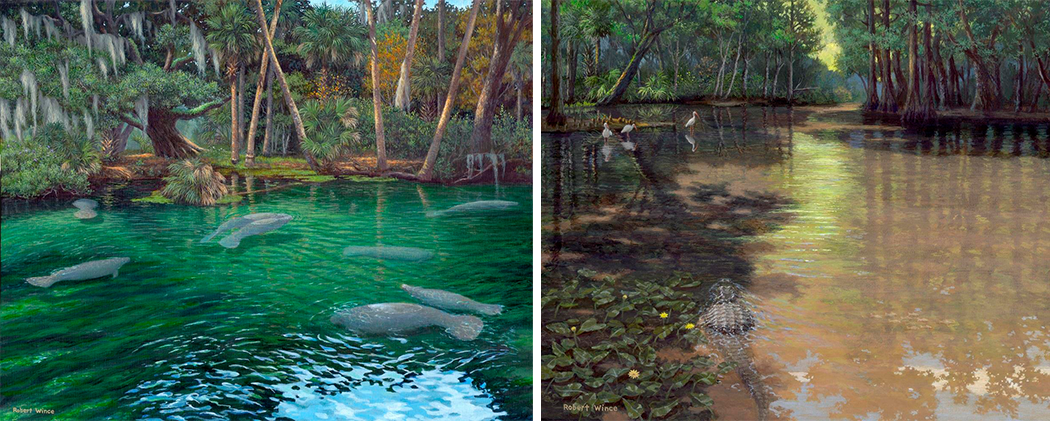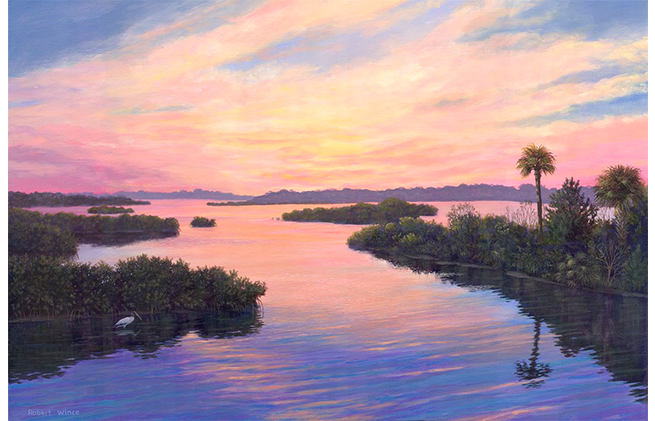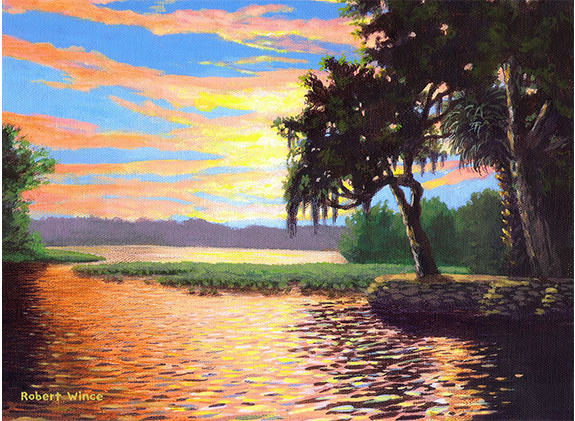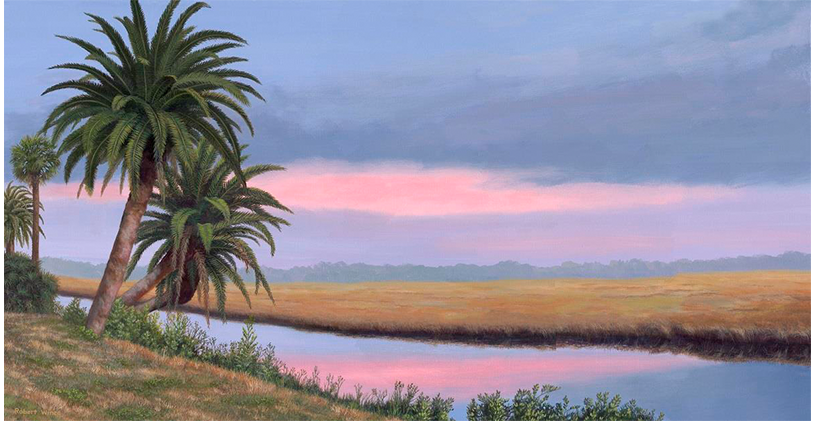 From left to right:
First row

Blue Spring Manatee, 24" x 30" acrylic on canvas
A Stealthy Approach, 24" x 20" acrylic on canvas

Second row

Wekiva River Cypress, 16" x 20" acrylic on canvas
Nature Calling, 24" x 30" acylic on canvas

Third row

Turnbull Bay, 24" x 36" acrylic on canvas

Fourth row

Hontoon Island, 9" x 12" acrylic on canvas

Fifth row

Tomoka Loop, 24" x 48" acrylic on canvas