---
ECHO GALLERY
Volusia County History- May 2023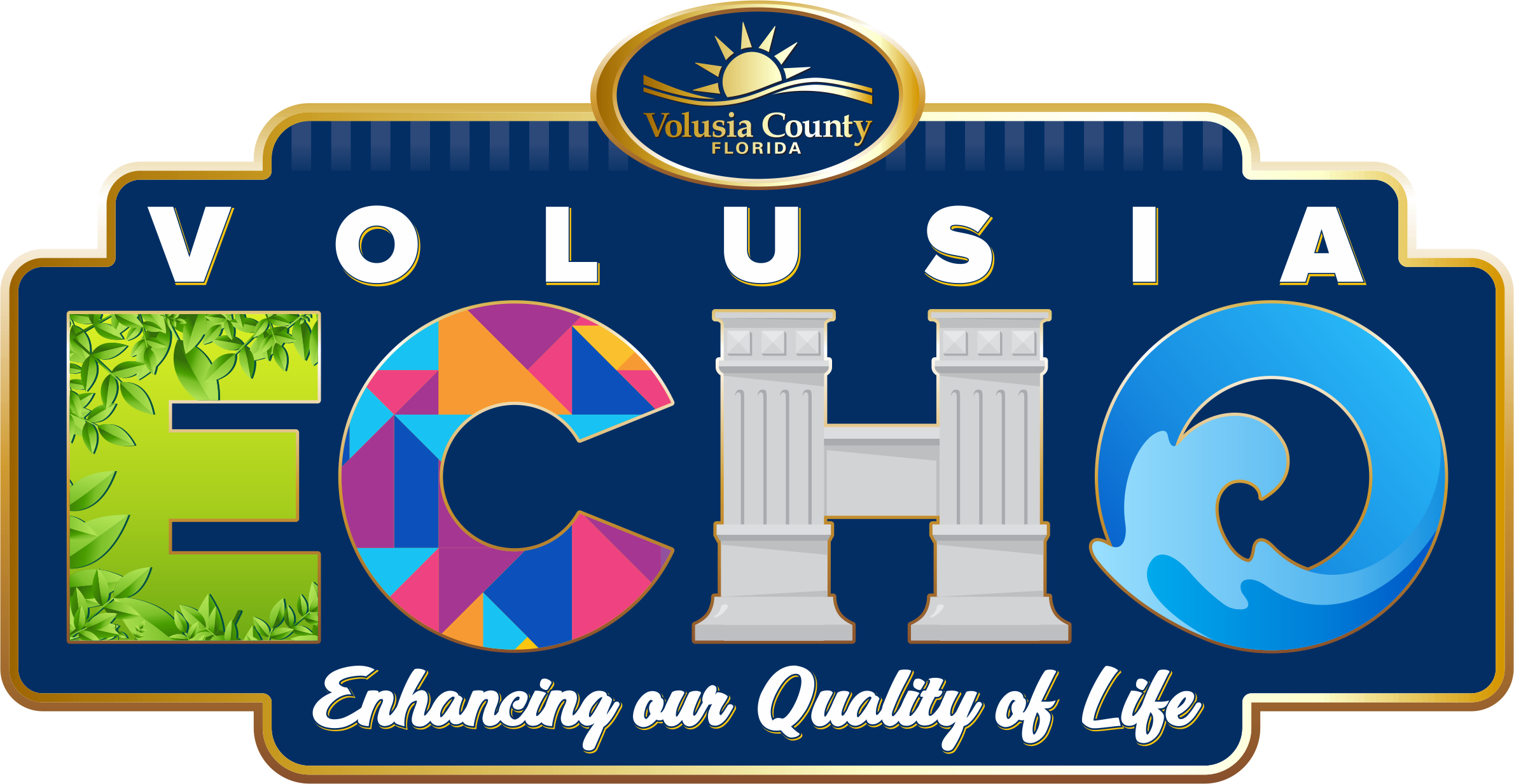 The Ocean Center's ECHO Gallery features local art highlighting the history of the county. The exhibit displays works from seven local artists with a focus on the broad history of Volusia County. Featured artists are Bobbie Baugh, J. Walker Fischer, Fred Peace, Clare Radigan, Gary R. Thomas, Marianne Verna and Robert Wince.
About the Artists and their work
Bobbi Baugh
Artist Statement
Work that is an invitation to see beyond the surface… What does that mean?
What is most interesting to me is what is not immediately visible. I am especially intrigued with seeing internal and external events in layers, and with depicting the internal and the external in a composition together.
When the subject matter is a person, my role is artist-as-storyteller. The story may involve dreams, memories, and states of being.
When the subject matter is the natural world, my role is artist-as-archaeologist: digging for things unseen to place alongside images of nature.
Mixed media textile artwork is the perfect vehicle for such explorations. There is a pleasing rhythm in monoprinting. And, through collage, rich textures and layers of paper and fabric emerge.
Bobbi Baugh is a self-employed artist working from her home studio in DeLand, Florida. Previously, Bobbi had a career of 30-plus years in commercial printing; her responsibilities included sales/customer service, graphic design, and stationery product design. Bobbi is a graduate of Stetson University. Her undergraduate studies included a double major in studio art and speech communication. She received her master's from Stetson in humanities and education. Bobbi has been active in the DeLand Community as a board member and President of the Chamber of Commerce, board member and President of the Museum of Art DeLand, board member and President of the Fall Festival of the Arts – DeLand, a member of the DeLand Breakfast Rotary Club and a first-grade classroom volunteer. Bobbi is a juried artist member of SAQA. She serves the Florida Region as newsletter editor, catalog designer, and member of the exhibition committee.
About the art
This work is an original textile collage/art quilt. It comprises fabrics with hand printed surface designs using archival acrylics paints, as well as transfers of original photos to fabric. Machine stitched. Edges are turned and bound. Hanging sleeve is incorporated into the backing. The work is designed to be presented without a frame: a traditional tapestry presentation.
Statement: This work was inspired by a bike ride through DeLeon Springs. We had parked the car next to the abandoned packing warehouse once operated for Bob White Oranges by Theodore Strawn Growers. The warehouse is in disrepair. (Since that visit, the warehouse has completely decayed.) A look into its windows was compelling and evocative. I wanted to capture the loss it represents. Small historical photos are embedded in the windowpanes and text describing the once-thriving operation is buried in the dried grass throughout the quilt. The workers are based on historical photos of pickers in the groves. The title comes from the popular marketing campaign for Florida oranges used throughout the late twentieth century, "Breakfast without orange juice is like a day without sunshine."
In 1882 Theodore Strawn settled down in West Volusia County and began an orange packing operation. Even though the freezes of 1894-1895 eradicated most of the livelihoods of the farmers nearby, the business continued to prosper. In 1921, the original wooden packing house burned down, and it was replaced by a new state-of-the-art steel building with a distinctive saw-tooth roofline. Over the next few decades, the business grew. Of the oranges they grew, only the best were given the "Bob White" mark, named after the Northern Bobwhite quails the Strawn family enjoyed hunting. While the "Bob White" oranges were shipped up north, the lower-class oranges were sold at roadside stands and markets in Florida. It was around this time in 1951, when John Strawn, the grandson of Theodore Strawn, returned from college to oversee a bookkeeper and others who tended the packinghouse's business affairs.
The packing house was closed after a destructive freeze on Christmas 1983. That year, the orange trees were killed down to the stump, according to John Strawn, the grandson of Theodore Strawn, the site's founder. The packing house and other agricultural buildings on the property were placed on the National Register of Historic Places in 1993. (Information on the Strawn site is from https://www.abandonedfl.com/strawn-citrus-packing-house-district/.)
As I created this artwork, I thought that this single location reflects the complexity of historical stories. Florida orange juice itself is not complicated. It is sweet and delicious. I remembered a great Florida orange discovery from a visit over thirty years ago. A family friend from Detroit visited, and we went to a local U-Pick orange grove to introduce him to a Florida experience. He reached up his hand, grabbed an orange, tugged, and there it was - actually in his hand. He peeled it, ate the fruit, and almost exploded with joy. The sun was on the face of this city dweller to whom the experience of eating a fresh, actual orange from a tree, with the juice running down his arms as he laughed was like being in another world.
But the history of the industry is a complicated one. Families became rich and then lost everything from destructive freezes. The whole landscape of this state has changed as areas once suitable for groves can no longer sustain them. Current orange growers contend with tree greening – a fatal, insect-borne microbial attack.
The lives and stories of the actual workers, the ones on ladders carrying sacks, are interwoven with Florida's brutal history of racial inequities to its own black citizens, as well as stories of immigrants who are the backbone of Florida agriculture. Many of these have faded from our historical knowledge. (They are depicted incomplete and semi-transparent to let the background show through.)
The fruit is wonderful. The juice is sweet. But the stories are complex.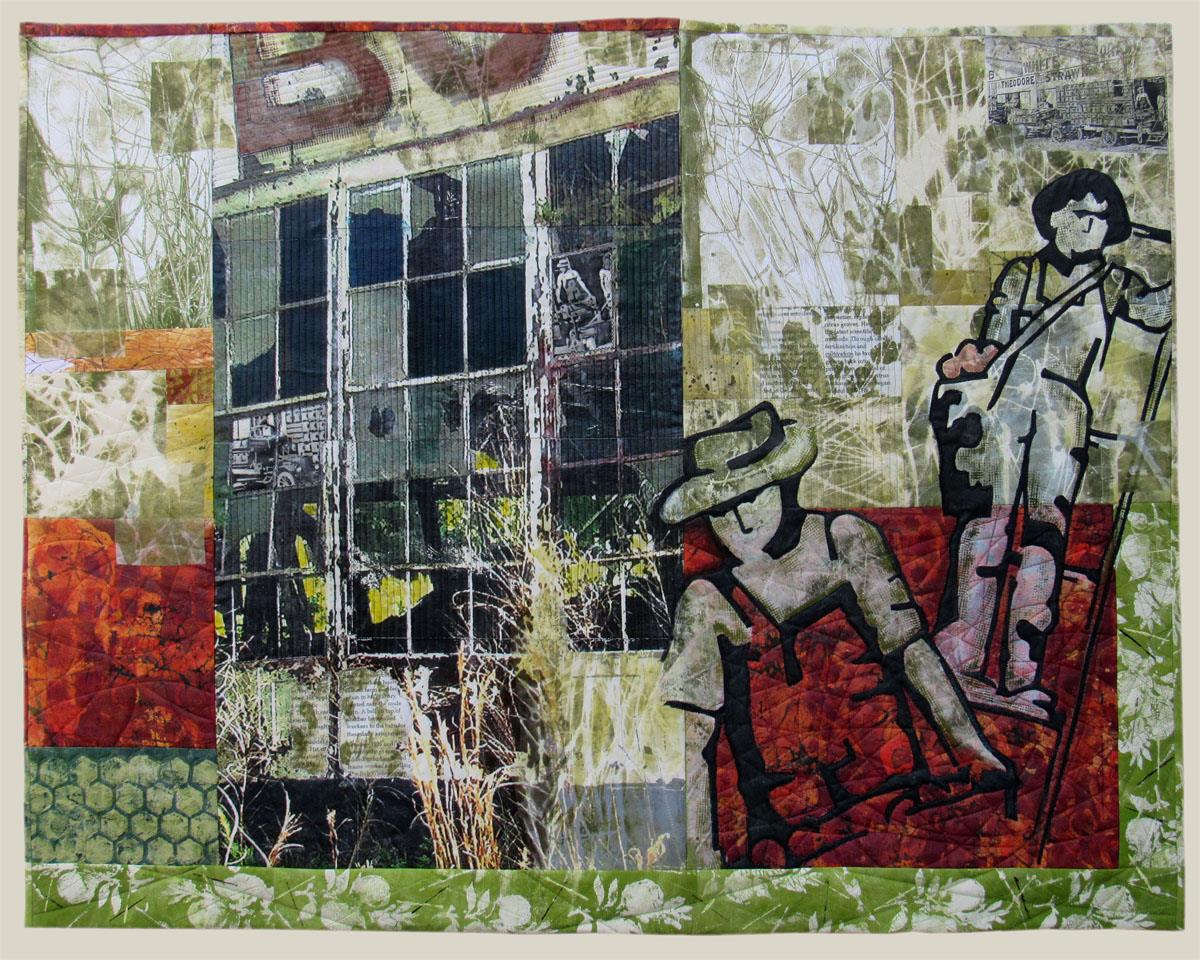 Is Like A Day Without Sunshine, 39"x 50", textile collage/art quilt
J. Walker Fischer
Artist Statement
J. Walker Fischer is an Ormond Beach amateur photographer with over fifty years' experience, including commanding an in-country photo unit during the Vietnam conflict. He refers to himself as a "snapshootist", eschewing bulky camera equipment for high-quality, lightweight, pocket cameras. A former longboard surfer, he now concentrates on shooting beach and wave images at local beach breaks.
About the art
"Granada Approach-1968" was taken in Ormond Beach with a 35mm camera using Kodachrome slide film. I was informed recently that the surfers pictured are Ben Harrington, Mark Harrington, Phil Parker and Ken O'Steen (riding wave), sponsored by the Daytona Beach Surf Shop.
This image was highlighted during The Southeast Museum Of Photography retrospective, "Daytona Beach Self Portrait: 1968" in 2000. It is currently held in the museum's permanent collection.

Fred Peace
Artist Statement
Fred Peace is an artist and retired landscape architect. Peace earned both an undergraduate and master's degree in visual arts and a master's degree in landscape architecture. He is a member of the DeLand Historic Trust, River of Lakes Heritage Corridor (Vice President), West Volusia Historical Society, Florida Native Plant Society, and DeLand Museum of Art.
About the art
"Tiger" is a rare WW2 survivor. She is one of 29 STs (small tugs) built by the American Machinery Manufacturing Corporation in 1942-44 for the US Army on the shores of Lake Beresford in Volusia County. This all steel 150-ton US Army war tug is the only one out of the 550 built or purchased by the US Army during WW2 to now return home to where she was built. WW could not have been won without these workhouse tugs, linked as they were to the expeditionary force. Their tasks were varied, but most important was constructing massive floating docks called mulberries from which troops, supplies and equipment were unloaded.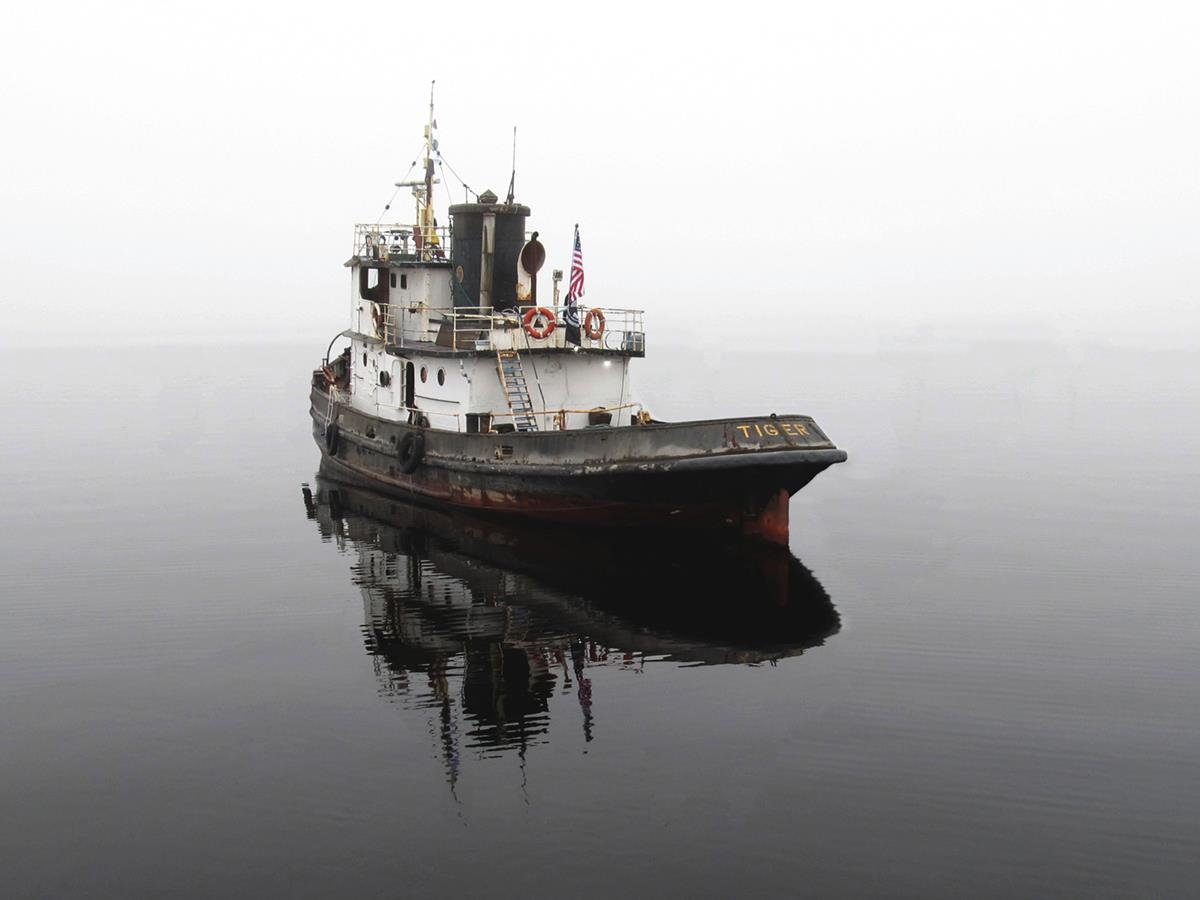 The Tiger's Journey, 18 " 24" photo printed on canvas gallery wrap
Clare Radigan
Artist Statement
Clare Radigan creates medium to large paintings in acrylic on canvas and wood panels, as well as collage and mixed media.
Throughout her career her work has often addressed the human impact on the environment.
Radigan grew up in the Virginia suburbs of Washington, D.C. and attended Virginia Commonwealth University, receiving a Bachelor of Fine Arts degree in Painting and Printmaking. She then lived for many years in California. She attended San Francisco State University, earning a Master of Fine Arts degree in Painting.
She moved to Florida in the 1990s and taught art for ten years at what was then Daytona Beach Community College, and Volusia County Schools for twenty-two years. During the past eight years she has had five solo exhibitions and has been in numerous group exhibitions.
About the art
My painting, "Longleaf Pines: from Catface Scars to Conservation, (Painting #1) references the longleaf pine ecosystem. Volusia County has a long history of successful conservation efforts for many threatened ecosystems, and the Longleaf Pine Preserve in DeLand is one example where the ecosystem and its threatened or endangered species are being brought back into balance. The painting depicts longleaf pines that have been scarred by the diagonal strikes of an ax, which caused the resin to flow into pots that were attached to the trees for processing into tar and turpentine used for waterproofing wooden boats from colonial times through the early 20th century. This process resulted in the decimation of most of the original longleaf pine ecosystem. However, thanks to the efforts of private landowners and public agencies, this complex ecosystem has a fighting chance of survival.
The longleaf pine forest stretched from Virginia to Central Florida before the colonization of the east coast began. In "Fire Flight," a historical map of this forest is seen in the green zones of the painting. As the pine timber was sacrificed for construction and turpentine, and cleared for crops and industry, plant and animal lives were depleted, and the devastation to the ecosystem of the pine forest was deemphasized until recent years.
Some of the plants and animals in this painting can be found living among the longleaf pine forests of Volusia County. I wanted to create a tableau of images highlighting the elements needed to balance this ecosystem while tackling the challenges of the two-dimensional surface through the ambiguous shifts between the sky, map, ground, water, lightning, plants, and animals. My intent was to achieve unity in the painting, with the dominant image of the bird as a symbol of both hope and transcendence.
In addition to forest conservation, the orange groves and its packing industry were an important aspect of Volusia County's history. Theodore Strawn's "Bob White Packing House" is a haunting relic of bygone days. I took photos of the decaying building several years ago while I was reading Jack Kerouac's book On the Road, and was inspired to do this painting, "Inconceivable Radiances." I don't know if Kerouac ever saw this building, but I think the abbreviated quote I borrowed from the book and embedded in the paint amidst a flurry of startled bobwhites captures the quiet determination of this old building to survive.
For more about this artist, visit www.clareradiganart.com.

Longleaf Pines: From Catface Scars to Conservation, 30" x 40" acrylic on wood panel

Fire Flight, 40" x 60" diptych acrylic on wood panel

Inconceivable Radiance, 60" x 36" acrylic on canvas
Gary R. Thomas
Artist Statement
Perhaps there is a lot of truth in the belief in reincarnation. I first got that feeling of another life lived in the first grade of school when my teacher asked me to help her clean out a classroom closet. First, she removed a Second World War Red Cross poster. The poster was large, almost as large as I was. It was love at first sight. I loved the design; it spoke to me like something I would have designed in another life. I have always loved painting, but most of all I love drawing and sketching. I have taught painting to people from 8 to 80 years old. The first thing I tell my students is that they must first learn to draw before painting. I teach the importance of composition, layout, structure, and balance in drawing your subject and how it affects the professionalism of the finished product. I have been involved with all types of art for as long as I can remember. In school, I took every class available in drawing from drafting, mechanical drawing, architectural drawing, and painting. I worked as a part-time draftsman in my Junior and Senior years of high school. In the Army, I attended their Engineering school and studied drafting. After the Army, I worked for three companies as a draftsman and three liquor companies designing advertisement-type displays which led to a 30-year management position in the liquor industry.
After retiring I then had time to start painting again. I hit the road running. First I converted a horse barn on our property to a first-class studio with proper lighting, supplies, framing material, tables, shelves, and all the equipment to get serious. I had a good friend who owned a house on the St. John's River with a boat. I would take lots of photos traveling along the river and I painted from pictures I had taken. As much as I enjoyed doing landscapes, seascapes, and figurative and portrait painting I found myself doing more illustration-type art.
My wife and I are involved with classic automobiles, auto shows, and events. Because of my involvement with cars, I'm constantly asked to design logos, tee shirts, and posters. My artwork is all over the world. When asked what I charge, I say "nothing." To quote Sir Winston Churchill " You earn a living for what you get. You earn a life for what you give".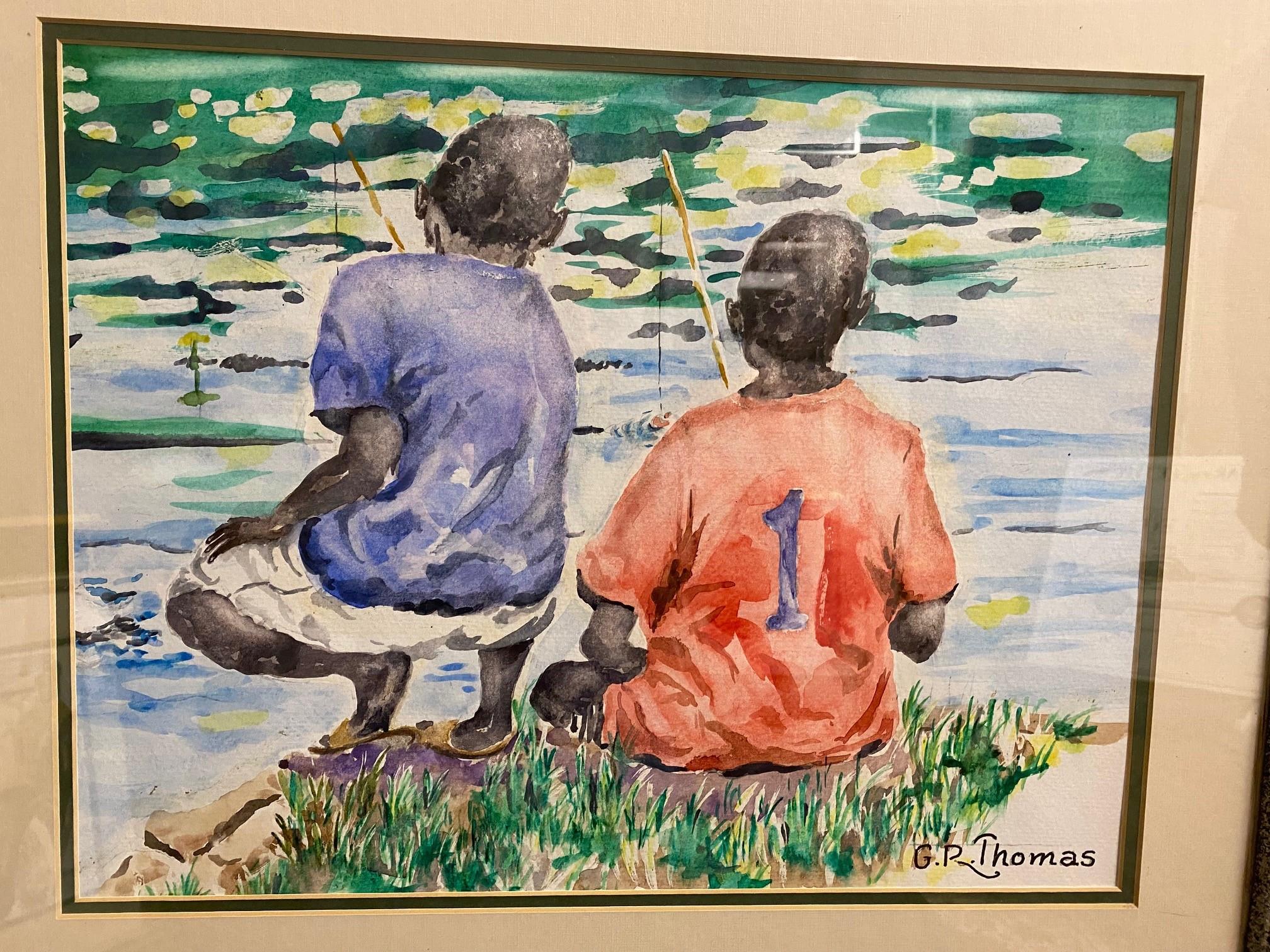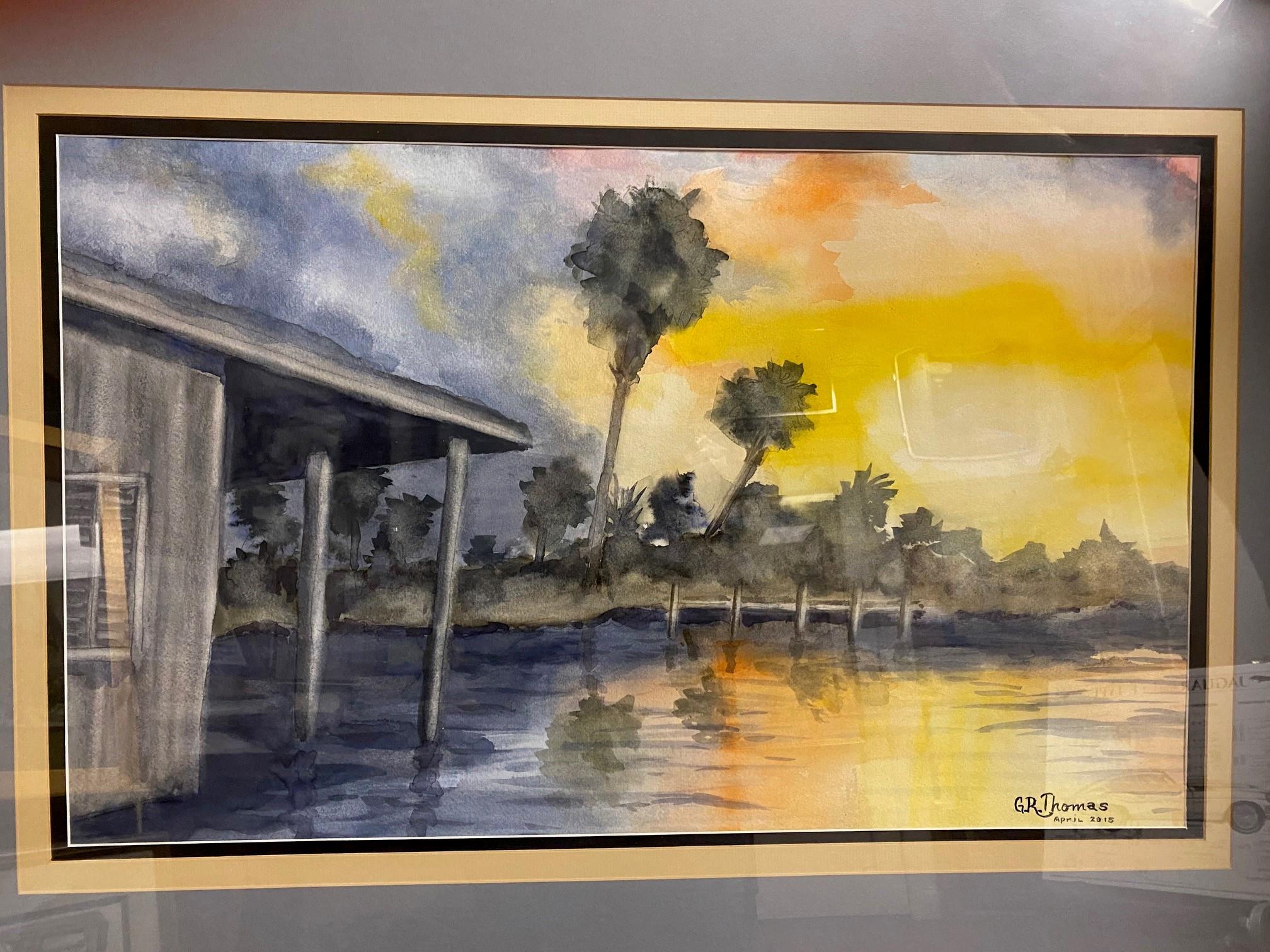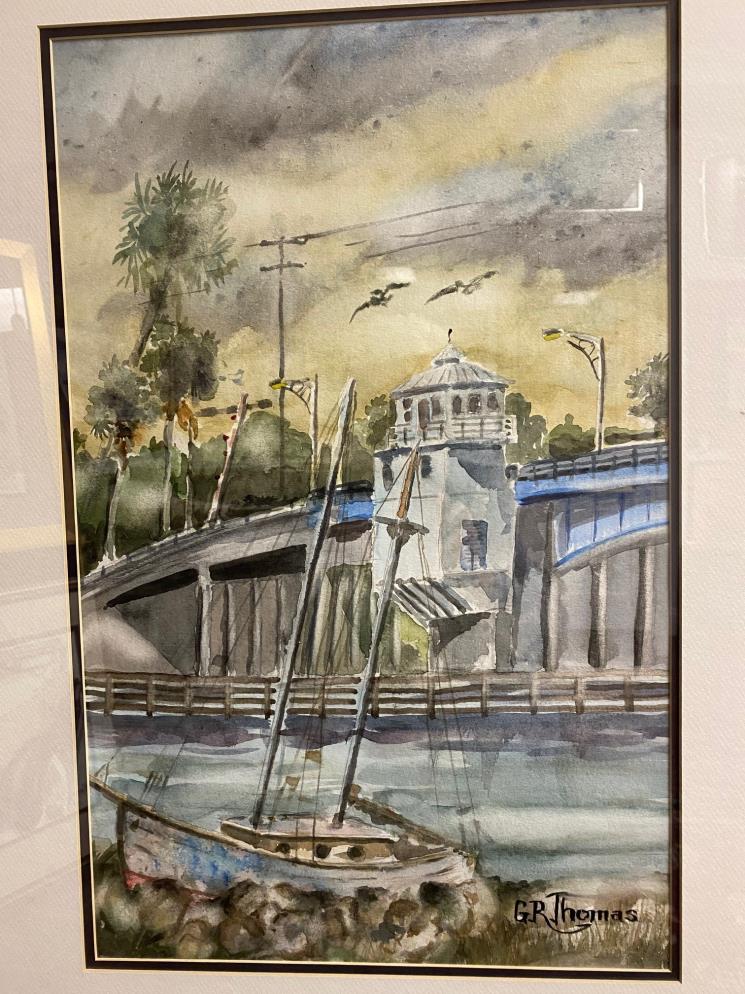 Two Boys Fishing on the St. Johns River

St. Johns River Flood Boathouse after a Hurricane

Sailboat Aground South of the Astor Bridge
Marianne Verna
Artist Statement
Having moved to Ormond Beach in June of 2014, Marianne loves this tranquil ocean setting. She works in oils, acrylics, and watercolors depending on her mood. Her repertoire includes painting pet portraits, photo-realistic ocean scenes, and whimsical mermaid creations. Marianne enjoys working with liquid colors and vibrant hues. Composition and value are her keystones as she works to bring life and excitement to her viewers. With more than forty years' experience in visual arts, she learned her skills working with both realist and abstract artists. She has been exhibited in California, Colorado, New York, Florida, and The Caribbean, winning Best in Show for her work, 'Tangerine Sunrise'.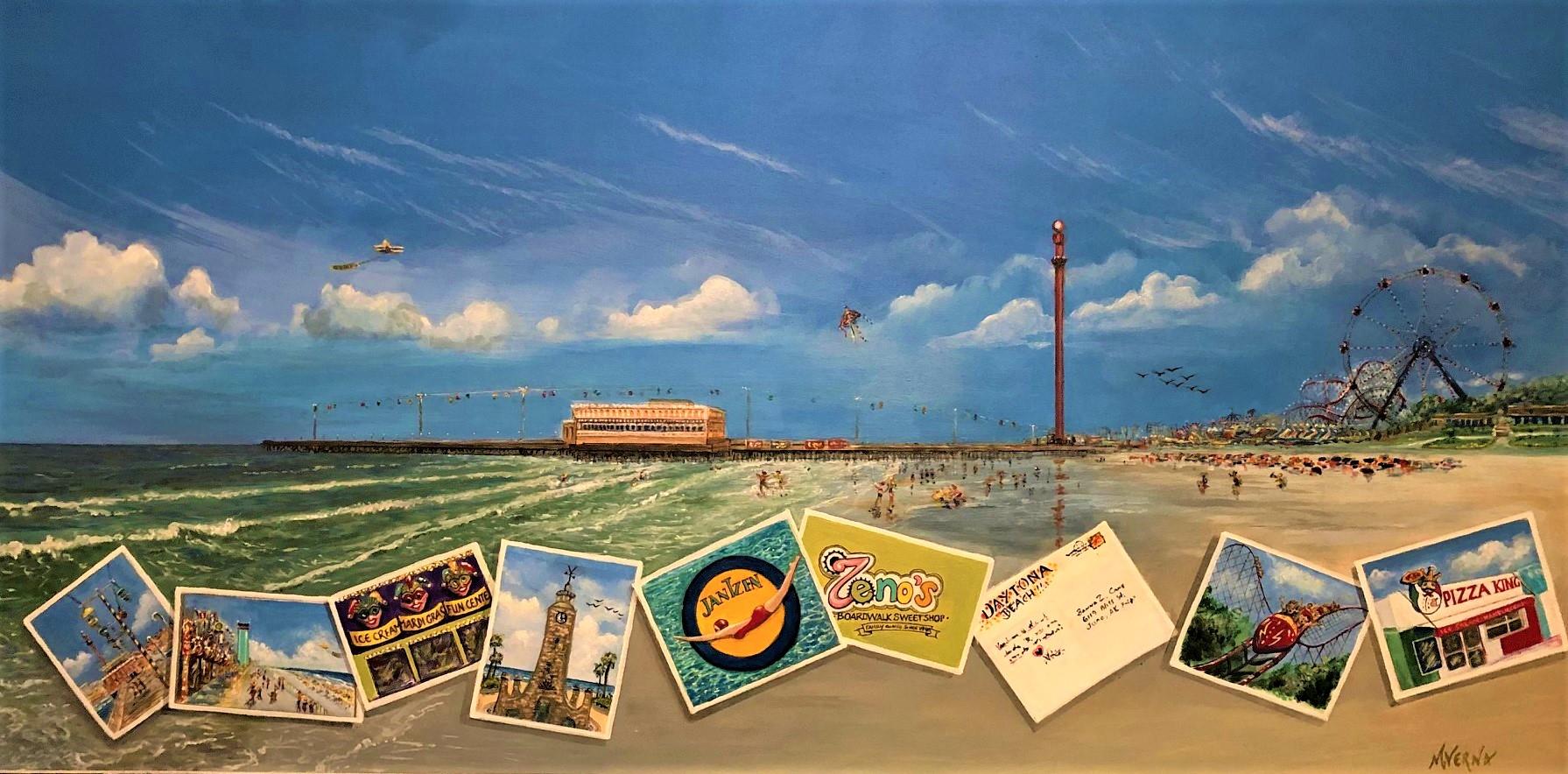 The Daytona Beach Boardwalk